Repair Services
– Mechanical Problems
– Electrical Problems
– Engine Repairs
– Clutch Repairs
– Brake Repairs
【Maintenance】
– Tuning & Repairs
– Car Service
– wheels & Suspension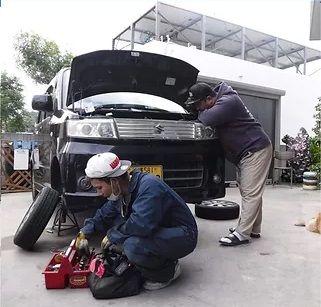 Others
– Complete computer Diagnostics
– Complete safety Analysis
– Drivability Problems
– Tune ups
– Tires
– Brake repair
– Mufflers and Exhaust
– Steering and Suspensions
– Alignment
一般整備・メンテナンス
–機械的トラブル
–電気系トラブル
–エンジン機構
–燃料機構
–ミッション機構
–冷却機構
–潤滑装置
–点火装置
–充電装置
–電子制御機構
–エアコン装置​
【その他サービス】
–カスタム車作成
–レッカー
–保険事故対応
–車検代行
–ホイール販売
–オーディオ販売​​
★BEFORE&AFTER★
​This Lancer Evo received fresh new paint (body, and wheels)along with rust repair.A little bit of tic brought this car to a back to its former glory like the day it rolled off the assembly line.Thank you Mr.Kope for letting us post pictures and thank you for coming to Zena Garage!!
錆穴修理なども承っております。予約状況を確認してからになりますが、作業開始まで少しお待ちいただく場合もあります。お電話にてお問い合わせくださいませ。
About us
Order vehicle,Car purchase,car inspection,insurance accident,Bodywork and paint for cars,Origiinal car making,Audio system,wheel sales
We at Zena Garage offer a varity of services.Anywhere From car inspection to repairs/bodywork.
We also offer island wide towing.
Please do not hesitate to give us a call.
私たちゼナガレージでは、中古車販売の他、注文販売(全国のオークションからお好きな車を注文できます)、一般整備、板金塗装(自社で行っております)、カスタム車作成、レッカー、保険事故対応など致しております。
ローン会社も多数取り扱っております☆
​ローン月々5000円~可能です!!お問い合わせくださいませ☆
​その他、お車に関する質問等ありましたらご遠慮なくお問い合わせください!